Learning a second (third, fourth…) language is a challenge, but a surmountable one. So, we'll start with some encouragement: you can do this! Learning (and speaking) Costa Rican Spanish is completely within your reach.
There's really only one thing standing between you and Spanish fluency: practice! So, since we've BTDT (been there, done that) and learned Costa Rican Spanish along the way, we're sharing five more (see the first five) of our favorite and most effective ways to practice, practice, practice.
Go to a Spanish School
One of the best things you can do when you first arrive in Costa Rica, is sign up for intensive Spanish language classes. (Example: The Nosara Language Institute is located just south of Nosara, between Playa Pelada and Playa Guiones.)
Most schools offer 10-20 hours per week of Spanish language instruction. At most schools, you can select language-only programs (no homestay). These classes are a fantastic first step into total immersion, with the (enormous) bonus of formal language instruction, if you thrive in that type of learning environment. We recommend 2+ weeks of classes for any new arrival!
Exchange Language Classes with a Friend
If you're already somewhat comfortable in conversational Spanish, why not exchange language classes with a native Spanish speaker? During one session, you speak all English with each other; during the next, you'll speak only Spanish. You both benefit from practice with a native speaker, and you'll make a friend in the process. Plus, the informal setting can be less stressful, if you don't love formal classroom environments. (Although most language schools are by no means "formal" settings!)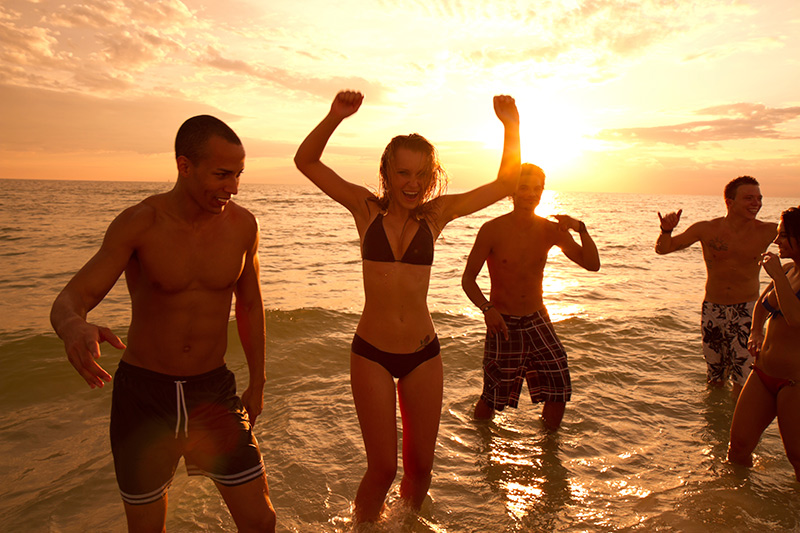 Socialize!
Okay, we know this one can be intimidating. It's hard to make friends, and it's even harder in a second language! But, the hands-down best, most natural way to learn Costa Rican Spanish is with Costa Ricans. Interact! Go to the feria (farmer's market) and ask about unfamiliar fruits and vegetables. Order your restaurant meals in Spanish. Introduce yourself to your neighbors. Join a club – a gardening club, a hiking club, a book club (see #4!).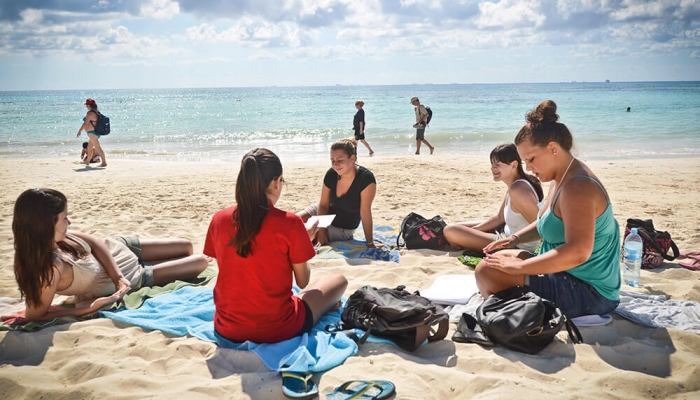 And, when you vibe well with someone, make an effort. Invite them out for a cafecito. Take a walk together on the beach. Make friends, only in Spanish! You'll find that the more you speak Spanish, the lower your inhibitions and insecurities. You'll also find the more you speak, the better you'll be at muddling your way through. It'll get easier (quickly), we promise!
Turn on the Radio & TV (or, Open a Book)
One of the best ways to attune your ear to the Spanish language is by simply listening. Even background noise can be helpful! So, turn the radio on. Find a radio station you enjoy, and keep it playing. Try to piece apart what people are saying (even during the ads). When you hear a catchy song, memorize a line and google the lyrics (la letra), then listen to the song as you follow along to the lyrics. Look up words you don't know. Soon, you'll not only understand your favorite songs but will be able to sing along, to boot!
The same goes for TV: if you like to watch, then watch! But, turn on Spanish-language dubbing (available for many/most TV shows). Watch the local news. Listen to people speaking Spanish, especially Costa Rican Spanish! You'll be surprised at how quickly your ear adjusts to rapid-fire speech.
And, if you're a bookworm, indulge! Hit up local bookstores (especially, used bookstores) and pick up a book or two you've been wanting to read. (You'll probably want to grab a dictionary, too!) Or, download your favorites as eBooks. (Big bonus: Many e-readers have built-in dictionaries, so you can look up unknown words with just the touch of a finger.)
Talk to Yourself
It sounds funny, but it works! If you're a beginner, use post-it notes to decorate your home with vocabulary words: espejo scrawled on the mirror, puerta on the door, and piso along the floor. Repeat, repeat, repeat. Before you go to the store, look up, memorize, and also write down translations for anticipated questions. Don't be shy!
If you're a more advanced learner, consciously formulate your thoughts and questions in Spanish. Do your best with conjugations. Test yourself on vocabulary. Keep a running dialogue in your head. Talk to yourself. It works!
There's no better way to learn Costa Rican Spanish than to hit the ground running. So, why not hit the ground with us, on an incredible Discovery Tour: 4 glorious days and 3 relaxing nights of practicing your Spanish and living the good life with ocean views, friendly smiles, and your very own infinity pool. Call (800) 219-0310 to book your free Discovery Tour today or click here to learn more.